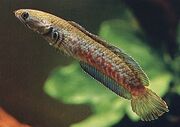 I made this wiki because I was tired of the requirement of production on Wikipedia. This wiki is all carefully looked over, and all content is verified. This wiki does not necessarily require a reflist on all pages. I chose Wikia to use not because of its fun features etc., but because I needed a place to start out with, in terms of creating an informative wiki for all users to use and access. A lot of Wikia Wiki's are happy-go-lucky and mostly community driven, but this wiki is more down to earth, with everything created by me.
This wiki is always updated with new info on cool fish, thus making it a great place to find critical info for a project or study!
-Raarg (Owner and Admin)
Ad blocker interference detected!
Wikia is a free-to-use site that makes money from advertising. We have a modified experience for viewers using ad blockers

Wikia is not accessible if you've made further modifications. Remove the custom ad blocker rule(s) and the page will load as expected.